reference project
Enz camera nozzle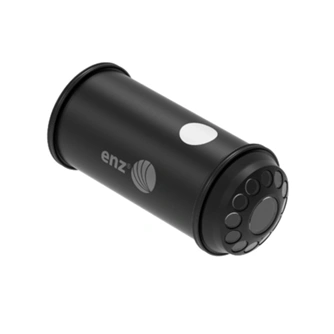 In order to ensure the trouble-free functioning of sewer systems in municipalities or industrial plants, they must be cleaned regularly. This is typically done by a water nozzle operated with high pressure. The cleaning result is usually not completely checked visually, because the effort for an inspection with an inspection camera is too high.
Our customer enz® is a leader in water-driven cleaning tools up to 3'000 bar. These hydrodynamic and hydromechanical cleaning tools are used to clean surfaces as well as pipes and channels.
To document the quality of a cleaning economically, enz® has developed a camera system together with Helbling that can be integrated into various cleaning systems. In this way, videos are recorded directly in parallel with the sewer cleaning and automatically stored in a cloud via a smartphone. Cleaning companies and clients can access the data after completion of the cleaning process and from any location and assess the cleaning result or detect any damage in the sewer.
Helbling has developed the «seeing nozzle» as a system together with enz® up to production readiness. The system, which is integrated into a compact housing, consists of a camera with an illumination system and on-board power supply, image processing, and buffer memory. This hardware can be integrated into several enz® cleaning tools. Furthermore, the system includes a wireless charging station, a smartphone app and the cloud environment for remote access to the recorded data.
Recording, editing and saving of video material in HD-Ready resolution under harsh conditions (vibrations, waste water, pollution) during cleaning of sewers
Illumination of the sewers (d = 200 mm to 600 mm) by LED lighting
Battery life of ≥8 h, wireless charging
Tightness according to IP68
Modularly applicable in different cleaning systems of enz®
Worldwide use
Wireless data transfer from camera to mobile devices (WiFi)
User-friendly Enz app to operate the camera (browser-based, iOS and Android devices)
Data management in an AWS cloud
Our Contribution
System development from concept to production readiness
Development of optics, lighting, electronics, firmware (Linux)
Mechanical integration of all components
Procurement, commissioning and testing of functional samples and prototypes
Evaluation system supplier and support in setting up series production
Testing of 0-series and series devices
Organization and support of conformity assessment (radio, EMC, safety)
App development (web, iOS and Android) with hardware and cloud communication
Data transfer to and data management in the cloud
Product life cycle support (mechanics, electronics, firmware)
Outcome
The Enz camera nozzle impresses with its robust and sophisticated design, which was recognized with the reddot award 2022, and high functionality. The concept has met with a great response and is successfully used by customers worldwide.