Insight
Three perspectives on the challenge of data integration in the healthcare sector
September 2023

With the progress in medical technology, an increasing number of medical devices are generating a continuously growing volume of data. Healthcare professionals aim to make decisions based on comprehensive data, which, however, is often originated and stored in completely different locations. When data is available at the required time, within the crucial system, and in conjunction with other relevant data, it can significantly influence treatment. Therefore, the integration of healthcare data has become a critical success factor for the healthcare industry. Experiences from various client projects implemented by Helbling demonstrate that considering three perspectives is pivotal for the success of data integration: the perspective of medical device manufacturers, that of healthcare service providers, and that of patients.
Is it possible to make medical data usable?
Medical technology has greatly improved in recent years. Medical devices benefit from technological advancements in manufacturing, software development, and artificial intelligence. Devices are becoming smaller, lighter, and more powerful. At the same time, they are being connected to the Internet of Medical Things (IoMT), which networks medical devices and applications that collect, transmit, and analyze health data.
As a result, healthcare professionals now have access to data and tools to support decision-making processes on an unprecedented scale. However, the success of securing and enhancing the quality of healthcare is largely dependent on the usability of the data.
In this context, Helbling experts are repeatedly confronted with three questions that simultaneously serve as critical success factors for data integration:
a. What architectural considerations must manufacturers of medical products consider to provide data to doctors and patients?
b. How do doctors obtain simple and secure access to data within their specific medical context (e.g., in hospitals or clinics)?
c. How can patients be supported in gaining access to "their" data and sharing it purposefully?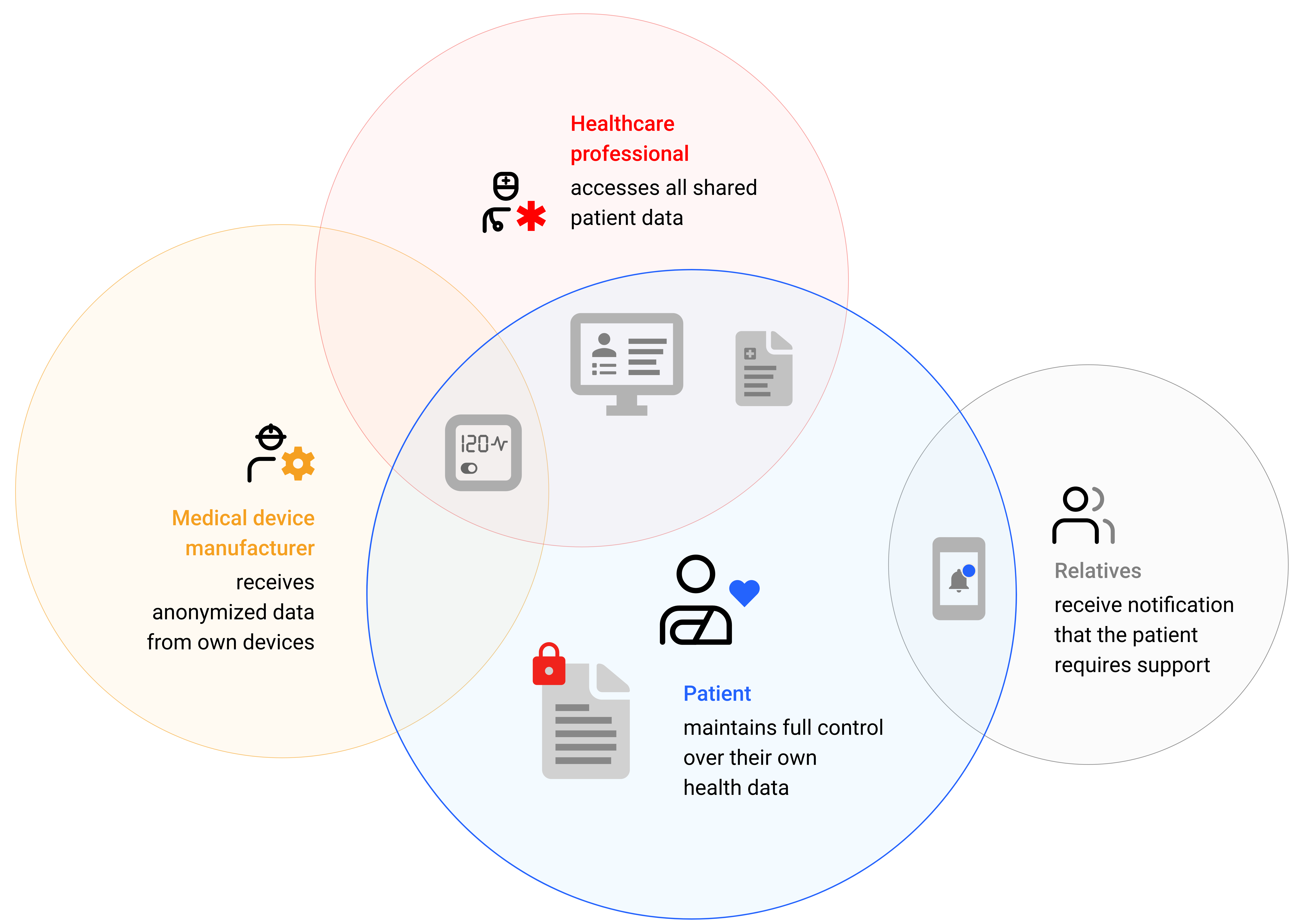 a. The manufacturer's perspective: Modern medical technology products generate huge volumes of data.
According to forecasts, the global volume of data generated on an annual basis will rise to 284 zettabytes by 2027 [10] – this is a 21-digit number! In this context, the share of health data, which currently accounts for about 30 percent of all data, will continue to rise. It is often a real challenge to predict which data will ultimately provide the most value. Manufacturers of medical devices and implants typically develop their own cloud-based platforms to provide the necessary functionalities for device configuration, administrative tasks, and to conduct anonymized data analyses.
As such, the manufacturers are now increasingly taking responsibility for the operation of their devices, including connectivity and data flow. This ensures that their data is available in the cloud in real time.
As a result, the device context is becoming siloed from the medical context: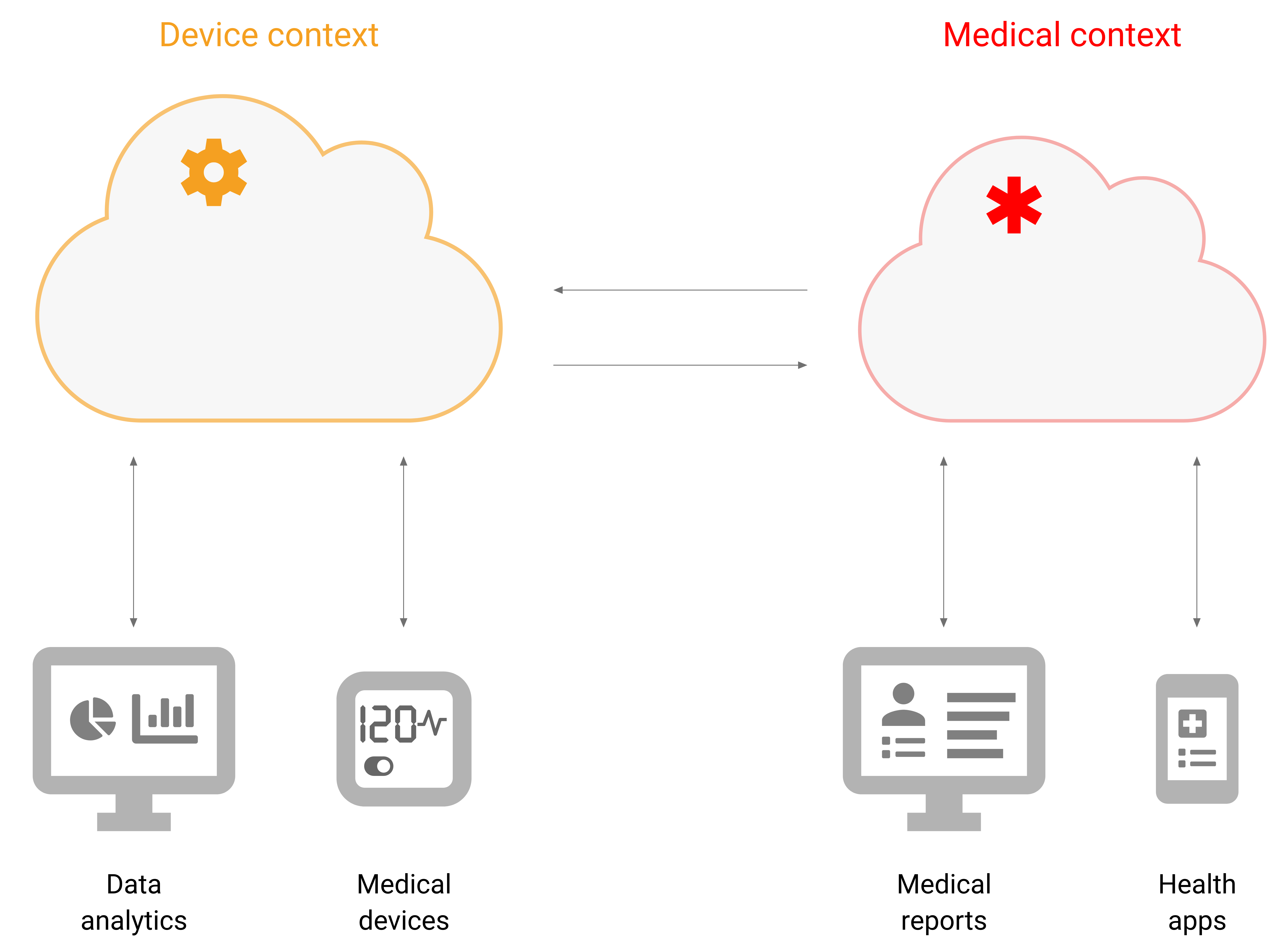 This architecture has a significant advantage: While manufacturers may encounter willingness to allow the data collected by their devices and implants to be imported into hospital or clinical systems, bidirectional communication (reading and writing configurations) presents a major challenge. With their own platform, manufacturers can offer the entire spectrum: full integration or complete independence.
However, for healthcare providers to be able to utilize the health data relevant to them, interfaces are necessary. With FHIR® (Fast Healthcare Interoperability Resources), the standard for electronic data exchange in the healthcare sector, a technical solution is available.
Although progress with regard to adoption in Switzerland is still sluggish, hospitals will ultimately need to embrace FHIR® to ensure optimal patient care in the long run. [1]
b. The healthcare provider perspective: Improved quality in healthcare thanks to connected medical devices.
Hospitals utilize Hospital Information Systems (HIS) for the effective management of patients and the precise documentation of individual medical histories. The integration of advanced smart products in clinical settings and in non-clinical contexts (such as home use) is becoming increasingly important. The data collected in these scenarios significantly contributes to accurate diagnosis and continuous monitoring of medical conditions.
Such monitoring can be conducted through the manufacturer's platform. However, integration in hospital or clinical systems offers crucial advantages:
The doctor does not need an additional tool, which simplifies work and reduces sources of error.
Access rights to patient data are not the responsibility of the manufacturer.
For diagnoses, the doctor has access to different data sources on their information system.
On the manufacturer's portal, work can be done more extensively with (pseudo-)anonymized data.
Integration in hospital systems
Many of the hospital systems in use support the four major open standards: FHIR, HL7 v2.0, DICOM, and IHE. As such, external data sources can, in general, be connected. Access to device data in the context of the patient is facilitated by concepts like "SMART on FHIR Apps" or the development and provision of apps in HIS-specific "App Galleries".
For an optimal and pragmatic integration solution, requirements must be clearly specified, and important questions need to be raised during the conceptual phase. Relevant points include the hospital and clinical systems used, necessary access rights, geographical deployment, and the need for real-time monitoring.
Integration in doctors' practice systems
The diversity of medical practice systems exceeds that of hospital systems in Switzerland. Interfaces are inconsistent and sometimes inaccessible for third-party providers. With the electronic patient dossier in Switzerland and the electronic patient record in Germany, digital options to centrally store data and give patients full control over access rights are being created.
(For further details, please refer to the Factbox section below)
c. The patient's perspective: Managing health data personally
A patient must have access to their data at all times, even when changing doctors or hospitals. Moreover, they need to be able to share this information with others.
Survey results indicate a high level of public acceptance for digital healthcare systems. However, these systems should offer clear benefits such as improved user-friendliness, more accurate diagnoses and therapies, as well as reduced healthcare costs. [3]
The desire for greater control over one's own health data is also evident. The aforementioned electronic patient dossier is an important step in this direction.
Summary: Data integration can create added value for manufacturers, healthcare providers, and patients.
There is already a wide range of integration options. However, they must be examined in a project-specific manner within the context of medical requirements, installation efforts, maintenance, as well as country-specific conditions, restrictions, and plans. Only in this way can a cost-effective solution be developed that meets medical quality requirements. Helbling assists customers in efforts to develop solutions tailored to their products and to implement interoperable solutions based on international standards. This is the prerequisite for a win-win-win situation:
a. The manufacturer increases acceptance for their product through integration, without losing the foundation for product improvements through anonymized data access.
b. Doctors have integrated data from various sources within one system at their disposal to optimally support diagnoses.
c. Patients are informed about their own health data and can provide these to healthcare professionals of their choice for successful treatment.
Authors: Berthold Andris, Frederic de Simoni, Aleksandra Hamryszak, Peter Wyss
Hauptbild: AdobeStock
Factbox
Development of Digital Patient Solutions
For several years, electronic patient record solutions have been developed in many countries. One of the challenges here involves cross-border integrated usage. The following section provides an illustrative overview of the situation in Switzerland, Germany, and Poland.
Switzerland: Electronic Patient Dossier (EPD)
In the interests of efficient treatment, a patient's medical data must be provided on a centralized, digital basis. Furthermore, the data should be secure and quickly accessible for all stakeholders. In Switzerland, this was initiated with the introduction of the Electronic Patient Dossier (EPD) in 2020. The purpose of the EPD is to collate all personal documents containing information about a patient's health. This data can be made available to healthcare providers if authorized by the patient. According to federal law, acute hospitals, psychiatric clinics, rehabilitation clinics, nursing homes, maternity centers, and newly accredited medical practices from 2022 onwards are obligated to join the EPD. Within this framework, key health-related information must be stored in the EPD as soon as patients possess an EPD. Opening an EPD is voluntary for patients.
In connection with linking health data to the EPD, the term mHealth (mobile + eHealth) is used. This term describes the technical requirements for utilizing health applications with the EPD. However, Switzerland currently lacks a coordinated approach, meaning that integration poses a real challenge. Nevertheless, a revision of the Federal Act on Electronic Health Dossiers (EPHD) aims to achieve improved integration of health applications in the EPD. [2]
As of May 2023, a total of 20,899 EPDs have been opened in Switzerland (0.25 percent of the population). [5] The numbers are also quite low among healthcare providers. For instance, at present, 44 percent of hospitals (mandatory) and 13 percent of medical practices (mandatory only for those newly accredited) are connected to the EPD. [12] A legislative revision is currently underway, with the goal of making EPD adoption mandatory for all healthcare providers. Additionally, the revision aims to promote EPD usage by automatically opening an EPD free of charge for all individuals residing in Switzerland subject to mandatory health insurance or those who are covered by military insurance. However, anyone can choose to opt-out of having an EPD (opt-out model).
The revised law also introduces the possibility for health applications to input health data into the EPD. The draft law currently includes the following provision: Health applications, with the patient's consent, should have access to the EPD. A health application is an application that allows medical data, for example through a smartphone or a medical device (such as an insulin measuring device), to be stored and/or retrieved in the EPD. [2]
Germany: Electronic Health Record (ePA)
In Germany, the introduction of the electronic health record (ePA) in 2021 paved the way towards the digitization of the healthcare system. As of June 2023, a total of 704,050 ePAs have been established in Germany (0.84 percent of the population). [6] The current adoption rate is therefore on the low side; however, an opt-out procedure is also set to be introduced by the end of 2024. [4] In terms of integrating health applications with the ePA, Germany is playing a pioneering role in Europe and has already inspired imitations in France and Belgium. [7] The keyword is DiGA (Digital Health Application). Manufacturers of health applications can benefit from funding. Upon approval and in the case of prescription by a healthcare professional, the costs for using the DiGA are covered by health insurance. In an accelerated review process, manufacturers of health applications can obtain approval within three months. Through a DiGA, it is also possible to directly store data in a patient's ePA.
Poland: Patient's Internet Account (IKP)
The Polish Ministry of Health provides a digital platform called Internetowe Konto Pacjenta (IKP), which translates to "Patient's Internet Account". Launched in May 2018, the IKP offers free access to individuals with a PESEL number (equivalent to a social security number in Switzerland) and thus enables access to essential healthcare services.
Since its introduction, the IKP has experienced remarkable growth. With over 17 million users (45.13 percent of the population), more than 250 million e-prescriptions and nearly 119 million e-referrals have been issued. Additionally, 103.6 million electronic medical documents have been processed, along with an impressive number of 515.6 million reported medical events. [8][9][11]
The functions of the IKP include providing e-prescriptions and offering access to comprehensive medical records, among other aspects. Furthermore, health data from various sources is integrated, such as data from patient information systems.
Sources
[1] BFH, Survey on the Adoption of FHIR® in the Swiss Healthcare System 2021, https://www.hl7.ch/de/assets/File/Technisches_Komitee/BFH_Umfrageergebnisse_FHIR.pdf
[2] BAG, Further development of the EPD, https://www.bag.admin.ch/bag/de/home/strategie-und-politik/nationale-gesundheitsstrategien/strategie-ehealth-schweiz/umsetzung-vollzug/weiterentwicklung-epd.html
[3] digitalswitzerland, Digital Health Study, https://digitalswitzerland.com/de/digital-health-study/
[4] Behörden-Spiegel, ePA remains unpopular, https://www.behoerden-spiegel.de/2023/08/04/epa-weiter-unbeliebt/
[5] BFS, Population status Switzerland 1st quarter 2023, https://www.bfs.admin.ch/bfs/de/home/statistiken/bevoelkerung/stand-entwicklung.gnpdetail.2023-0207.html
[6] Destatis, Population status Germany 1st quarter 2023, https://www.destatis.de/DE/Themen/Gesellschaft-Umwelt/Bevoelkerung/Bevoelkerungsstand/aktuell-quartale.html
[7] HealthOn, DiGA-Fast Track – Blueprint for digital turbo in Europe?, https://healthon.de/blogs/2023/03/14/diga-fast-track-blueprint-fuer-digitalturbo-europa
[8] Service of the Ministry of Health and the National Health Fund Poland, 17 million IKPs, https://pacjent.gov.pl/aktualnosc/17-000-000-x-ikp
[9] Service of the Ministry of Health and the National Health Fund Poland, FAQs on the IKP, https://pacjent.gov.pl/internetowe-konto-pacjenta/pytania-i-odpowiedzi
[10] Statista, Volume of digital data generated/replicated annually worldwide from 2010 to 2022 and forecast to 2027, https://de.statista.com/statistik/daten/studie/267974/umfrage/prognose-zum-weltweit-generierten-datenvolumen/
[11] Destatis, Population status Poland 2022, https://www.destatis.de/Europa/DE/Staat/EU-Staaten/Polen.html
[12] eHealth Suisse, EPD Connection lecture in May 2023, https://www.e-health-suisse.ch/fileadmin/user_upload/Dokumente/N/2023_EPD-Anbindung_Vortraege.pdf