Insight
Circular economy provides new opportunities for mechanical and plant engineering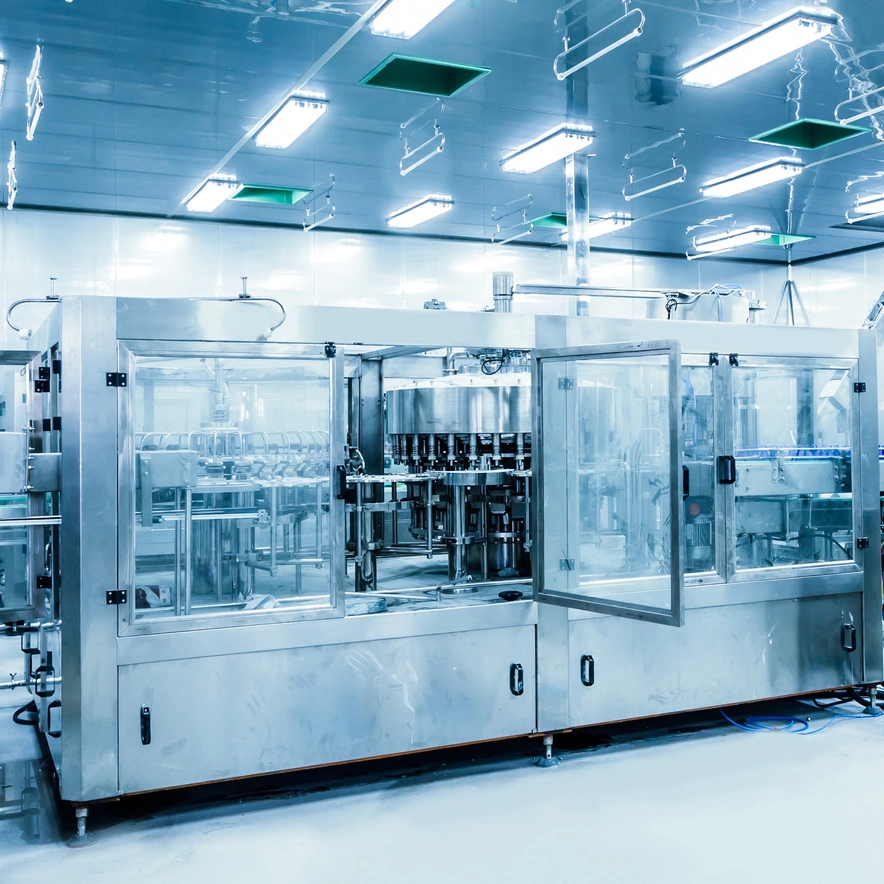 September 2022

The circular economy offers innovation potential that is sadly still being exploited far too rarely by Swiss companies. This model could help them to achieve their sustainability goals, proactively tackle future resource bottlenecks, and develop new, profitable business models. One key to success in this respect for mechanical and plant engineering is to map the product portfolio in a suitably designed product modular system. Helbling can optimally support its clients in achieving this with many years of experience and proven methods.
Consumers and business customers are increasingly calling for sustainable products and services, expressing their need for greater sustainability in all areas of the economy and society. However, implementing this doesn't just affect the subsections of a company. Often, a holistic approach is required. Specifically in the machine and plant industries, this involves meeting complex requirements and rethinking structures. For years now, Helbling has been successfully advising clients on their journey toward achieving more sustainable processes and products within the sense of the circular economy. In doing so, Helbling has developed an entire toolkit for the specific needs of mechanical and plant engineering.
What are the obstacles facing companies striving for the circular economy?
A recent study by the Center of Economic Research at ETH Zurich[1] in 2022 investigated the progress made by Swiss companies with regard to the transition toward increased sustainability and also the implementation of a circular economy. The circular economy model aims to reduce the demand for resources throughout the entire lifecycle. The authors identified three building blocks of a circular economy: "(a) increasing resource efficiency by decreasing the amount of resources used per product, (b) slowing down resource cycles by extending product lifetimes, and (c) closing resource cycles through recycling and, above all else, reuse." Reuse has a major effect and supersedes disposal or recycling. According to the study, many companies have adopted a wait-and-see attitude. Some have already started to adopt the first optimization measures but have hit various obstacles. The following limitations often arise in the machine industry:
Existing processes cannot be changed due to risks and costs as they are integrated in a complete process. As a result, people often stick with standard processes instead of using new, more efficient technologies.
Additional functions such as energy recovery are omitted to prevent the system from becoming unnecessarily complex.
Often components that are more efficient but also more expensive are passed over due to the price being too high, despite these being cheaper for end customers in the long run.
An initial changeover of the business model to include recalling, replenishing, and bringing the components or the complete system back into circulation is associated with high logistical and organizational expenditure.
The machine industry often lacks innovative concepts to overcome these obstacles. The study authors thus describe an "innovation challenge": there are not enough innovative flagship projects and intelligent implementation concepts. They believe Switzerland's innovative power provides the optimum conditions for it to play a leading role in this. Additionally, as is the case for other resource-poor countries, saving resources would lead Switzerland to have greater independence in the battle for resources.
[1] Stucki, T. and Wörter, M. (2021): Status Report on the Swiss Circular Economy – First Representative Study on Implementation of the Circular Economy at a Corporate Level. Final Report on Behalf of the Federal Office for the Environment (FOEN). Bern University of Applied Sciences, ETH Zurich, Swiss Economic Institute (KOF).
How to overcome the innovation challenge?
An innovative product must satisfy customer needs, generate profit, and must be technically feasible and sustainable – i.e. good for the environment, economy, and society over the long term.
As an independent innovation and development partner, Helbling provides support with its experience gained from a broad range of innovation projects and contributes to sustainability and to strengthening industrial enterprises with the aid of proven methods. Furthermore, integrating sustainability into all projects is a matter of particular concern to Helbling.
Helbling performs a sustainability analysis at the start of development projects using an ecodesign checklist and a screening PCF (product carbon footprint) analysis to assess concepts. This is a way to determine the factors that have the greatest impact on sustainability with little expenditure and to derive potential measures. In the production machinery and automation systems sectors, resources (energy, material) are generally consumed most in the use phase. This is why Helbling supports its clients with projects to develop more efficient systems, processes, and methods.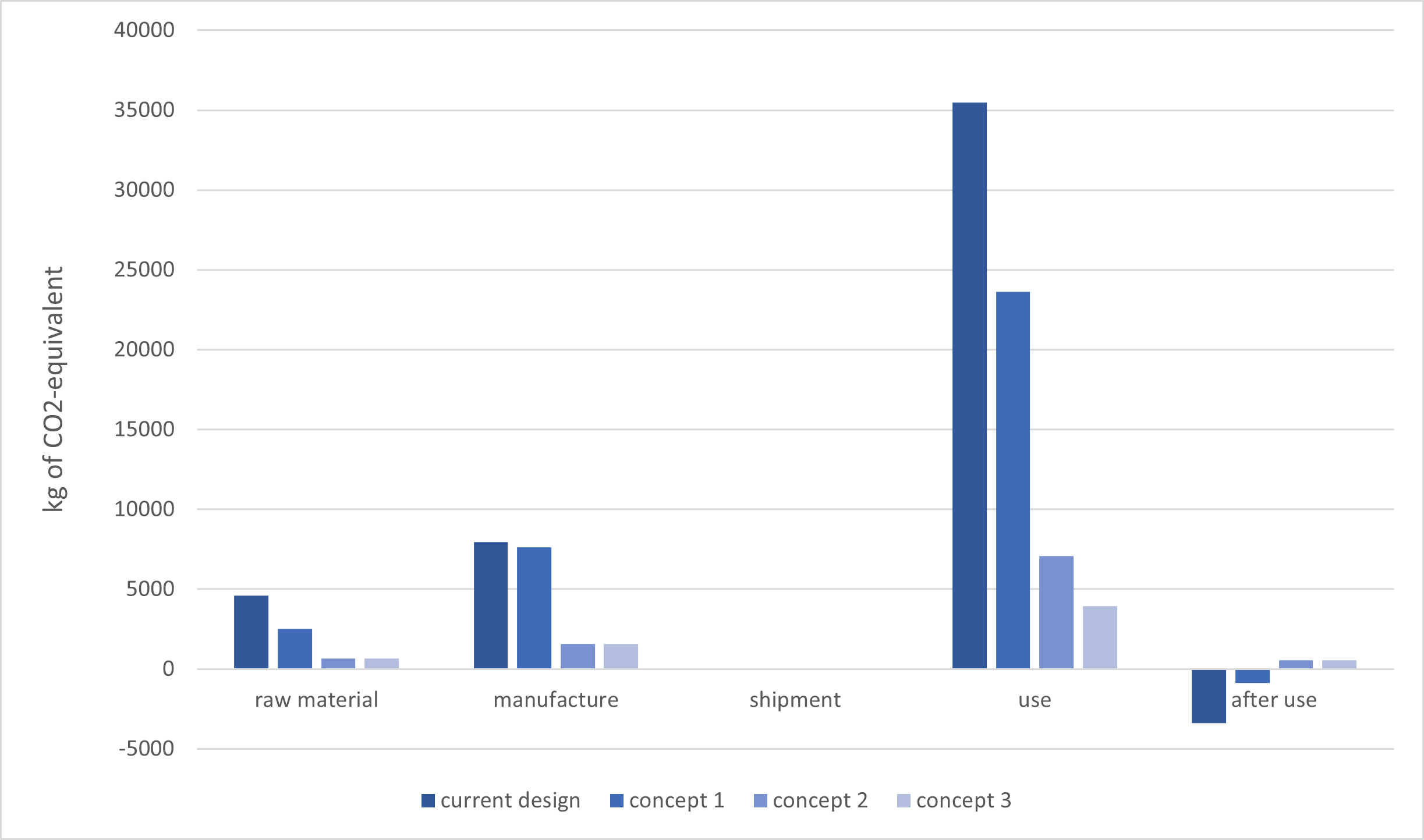 In addition to optimizing the use phase, there is another major way to manage sustainable handling of resources (in the example above about 30 percent). Capital goods such as production machines and plants are often robust and therefore material-intensive to build due to their size, long lifespan, and process stability requirements. After the end of the use phase, these materials can be recycled and reused, but this leads to huge expenditure during disassembly and material sorting.
A far more effective method is to reuse the machines or at least their components. Ideally, a used machine is repurchased, refurbished, and resold. Some companies, such as the packaging machine construction company MULTIVAC[2], are now starting to systematically buy back their own used machines from customers to update these and sell them to new customers. Depending on the level of modernization, this can come in at 60 to 90 percent of the original price, meaning that new or price-sensitive customers can be offered a cheaper machine and at the same time be tied to the company. Additionally, repurchasing reduces the investment risk: if the machine is no longer needed earlier than expected, part of the investment can be redeemed.
[2] https://us.multivac.com/en/solutions/used-machines/
How does the product modular system enable the circular economy in mechanical and plant engineering?
Helbling recommends building up a consistent product modular system to achieve more efficient and flexible renewals of used machines and plants. This can be used to derive the requested configurations. The requirements of the circular economy are taken into account when creating the modular system. Components and modules with a long lifespan (such as machine beds or base frames) should be standardized and equipped with interfaces. Functional units with a short lifespan such as software and electronics or technology units with short innovation cycles should be built to be as flexible and easy to replace as possible. This simplifies reuse and retrofitting during the lifecycle.
Illustrating the product portfolio in a modular system has other advantages: often, complexity costs are decreased, economies of scale are exploited, lead times are reduced, and repetitive work is automated.
When the product portfolio is mapped in a modular system, this affects the entire value chain of a company. Market needs must be incorporated correctly and mapped in the portfolio. This has an impact on the product structure, processes, and even the resources and procedures in the areas of operations and service. For this reason, the design must be created with great care regarding standardization and flexibility and the profitability must be checked regularly.
Experience shows that it is beneficial to work with an external partner when developing a product modular system. A partner can provide the experience, methods, and tools required to successfully implement a project. Furthermore, he can moderate the process by dint of its independence and enable the goal to be reached.
Helbling has adapted the standard process from the literature to the industry's needs in order to design modular systems for mechanical and plant engineering. It has implemented these in a variety of sectors, including the food industry and automotive production equipment to name a few. This allows projects to be carried out efficiently and within a manageable cost and time frame.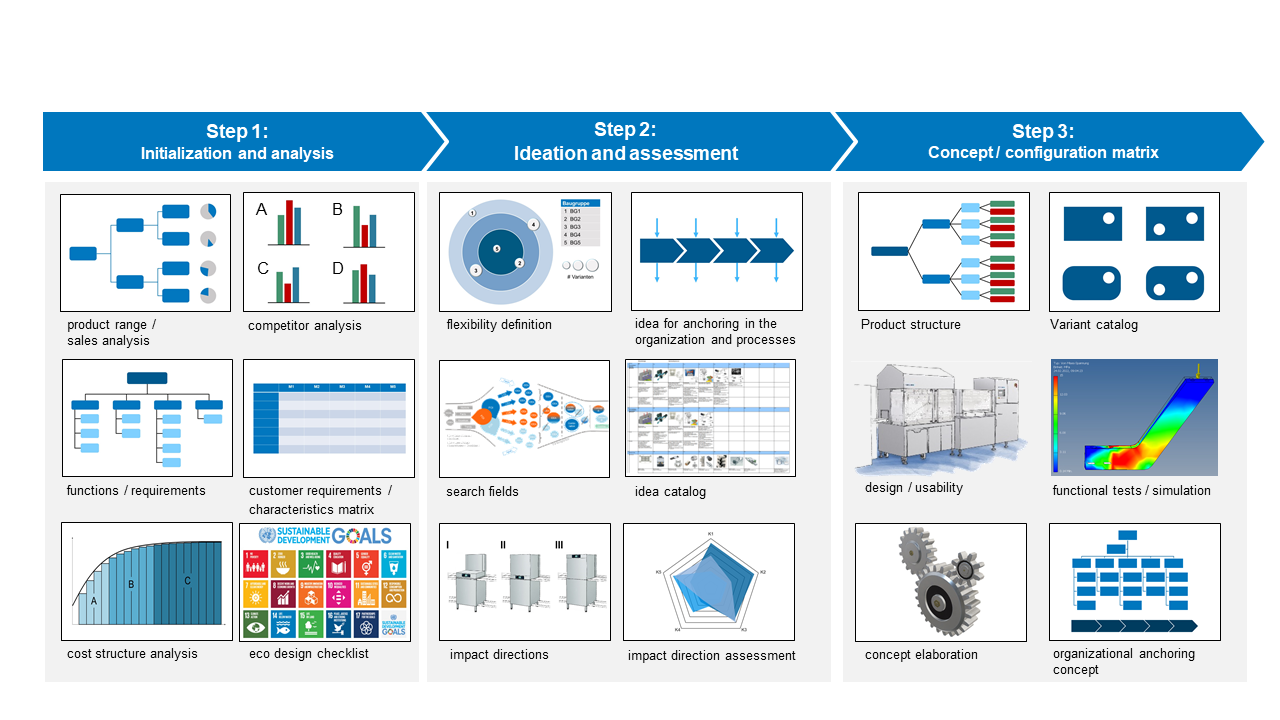 Summary: Helbling supports companies to overcome obstacles to innovation
Circular economy-related optimizations lead to significant savings of resources, among other things. However, companies from the mechanical and plant engineering sector may encounter innovation obstacles relating to their implementation. Helbling uses sustainable product modular systems to support its customers to overcome these obstacles. The key to this is Helbling's experience in a wide range of modular system development projects across a variety of industry sectors. Other important factors include Helbling's competence in business case and business model development as well as anchoring sustainability within the company. Helbling's experts can provide a no-obligation consultation to discuss a possible approach for overcoming obstacles to innovation.
Authors: Stefan Huggenberger, Matthias Schmid
Main Image: iStock