News | News
A more sustainable
way to your Cappuccino and
and Latte Macchiato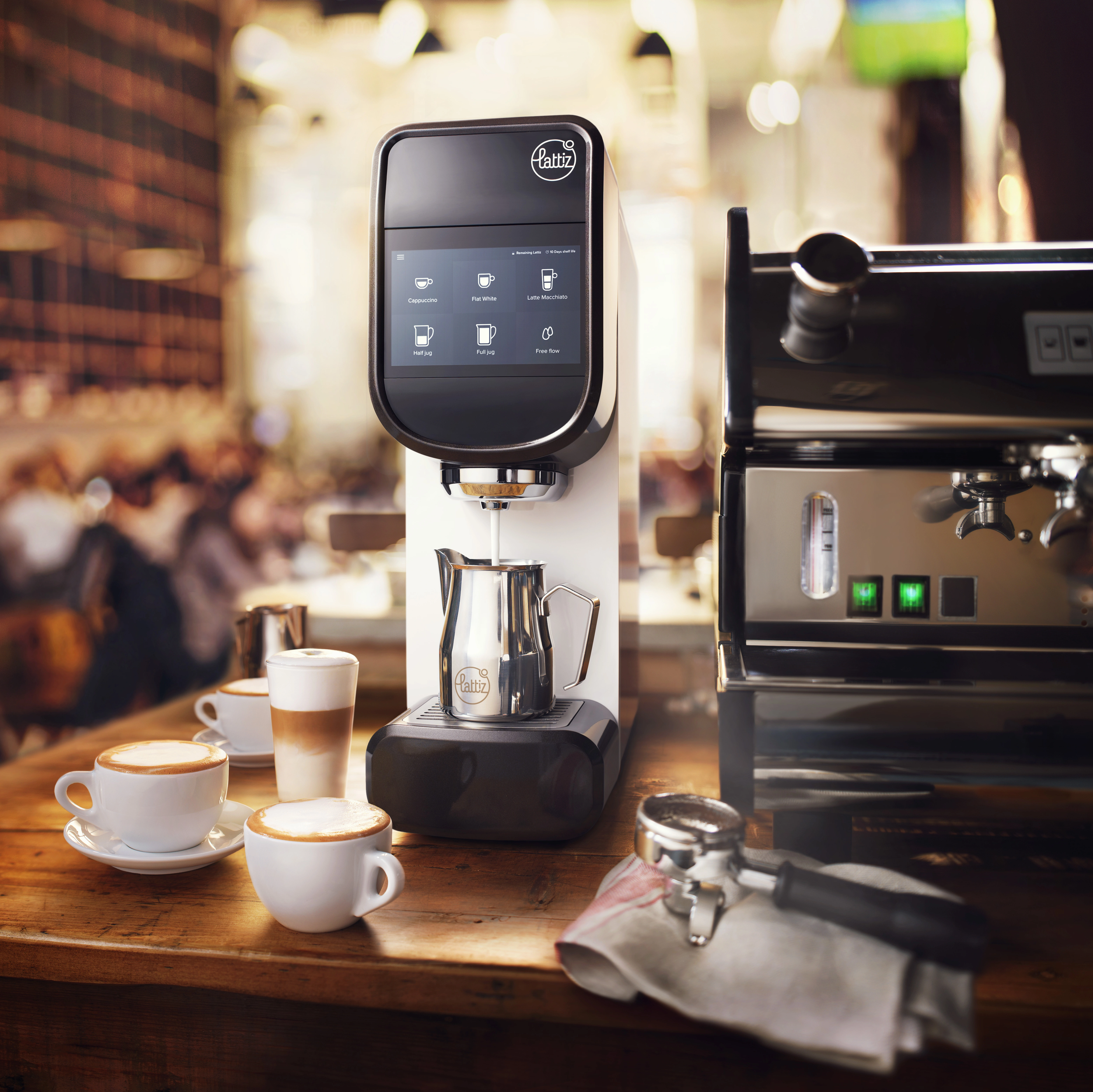 Coffee is an important part of HORECA (Hotels, Restaurants and Catering) turnover and specialized venues for coffee related drinks have become very popular.
One soon realizes that it's not coffee being the main ingredient served, it is milk. Looking at the ratio of milk to coffee in a Latte Macchiato one wonders why it is called Coffee Shop and not Milk Shop.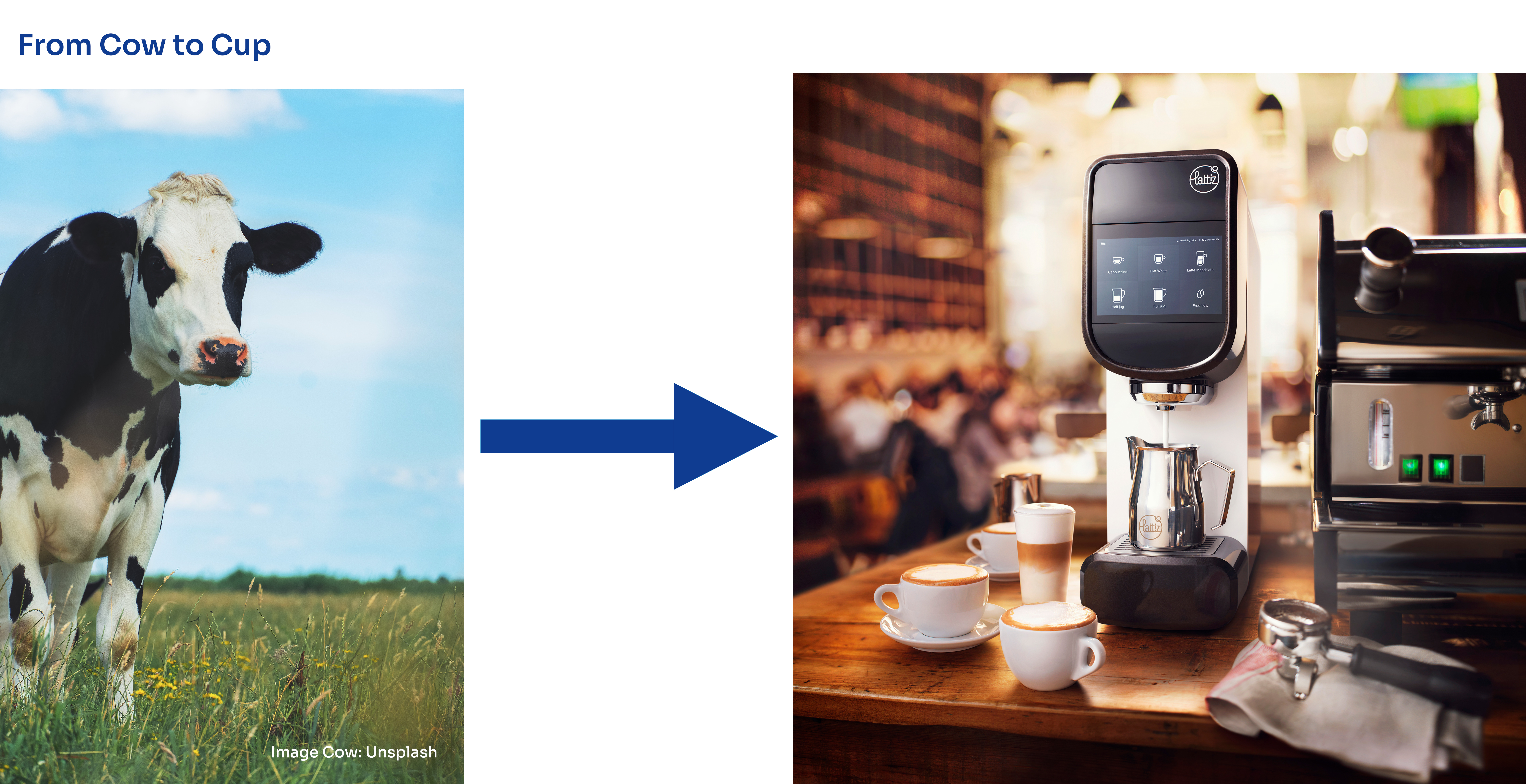 Fresh milk is a delicate product from nature thus demanding a lot of care and requires a lot of resources to get it from cow to cup:
Standardization to produce and ship the same quality every day
Filtration and pasteurization to prolong shelf life
Packaging to protect it
Refrigeration to keep it fresh
Transportation of large volumes

Traditional heating up and foaming of cold fresh milk is done with steam. Achieving consistent quality with steam is difficult and consumes a lot of energy. Steam escaping during this process is wasted energy blown to the environment.
Additionally cleaning of machines for milk foam must happen daily, using additional energy, chemicals and human resources.

Lattiz by FrieslandCampina
FrieslandCampina, a Dutch dairy cooperative with focus on professional and consumer dairy products has invented a new, more sustainable system to bring milk foam of constant high quality to the HORECA business.
Raw milk is concentrated in a ratio three to one (by removal of water in a modern way without affecting taste) in state-of-the-art dairy factories running on 100% renewable electricity (i.e., wind, solar, biogas)
This concentrated milk then has a shelf life of approx. 4 months without the need of cooling and therefore reduces food waste compared to fresh milk
The transport volume is significantly reduced, and less packaging material is needed
Furthermore, the concentrated milk does not need refrigeration during up to 10 days while in use inside dispensing machine.
In the Lattiz machine the concentrated milk is mixed with precisely heated water and compressed air in a controlled manner to produce hot milk foam of barista quality. The mixing happens in the small disposable outlet which is replaced with every new pack; it assures there is no contact between milk, machine and men and therefore the machine does not need cleaning.

Helbling contribution
FrieslandCampina has mandated Helbling to develop the second generation of Lattiz machines, giving special attention to the reliable operation, sustainability, longevity, robustness and repairability of the machine. This development included:
Mechanical engineering of the complete machine i.e., housings, fixations, interfaces
Development of the fluidic system including water heaters, pump, flow measurement including i.e. heating algorithm for heating water without energy loss
Development of the pneumatic system providing the pressurized air
Development of electronics hardware. Modular approach including GUI (graphic user interface)
Development of electronic software including the definition of an optimized energy-improved heating algorithm, machine operation, user interface and connection to internet and cloud

Results
A recent LCA (Life Cycle Analysis) performed by the agency Blonk shows a 19-23% reduction of CO2 equivalent of the Lattiz system compared to traditional milk foaming machines.
The new generation Lattiz machine is established in the market and has proven to be very reliable. The call rate for a service technician is now averaging only once in every 5 years, which is extremely low compared to other HORECA equipment. Less interventions mean less kilometers travelled by technician vehicles and less material used for spare parts, and most important: happy customers.
The new machine is an important contribution to the continued successful growth of the Lattiz system and the expansion to new markets.

Conclusion
The Lattiz project combined the food processing expertise of FrlieslandCampina with the clever, professional product development by Helbing. Sustainability in terms of improving energy consumption from cow to cup, longevity and repairability of the dispensing machine not only secured market success, but also provides a significant contribution to the reduction of the CO2 footprint for providing first class quality milk foam to the HORECA business.