reference project
Masterflute Power Aligner – Alignment Unit for Litho-laminator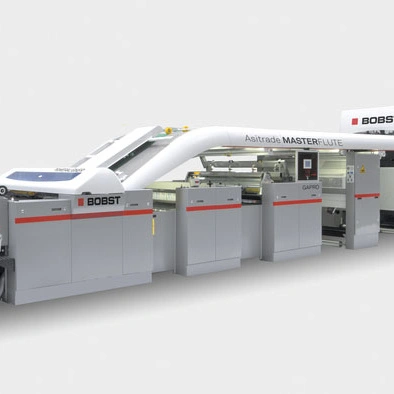 As the previous alignment technology using a stop and a suction pull mark reached various limits in terms of speed, accuracy, and the paper that could be used, Asitrade (now Bobst Grenchen) approached Helbling with the desire to develop new possibilities using innovative technological approaches and to massively increase performance. For Helbling, such a multidimensional performance improvement is a familiar objective from many projects. What specifically qualified Helbling for this task was its solidly anchored mechatronics expertise, which can be demonstrated by various examples of high-performance systems for mechanical engineering. Other decisive factors were the neutral external perspective and the ability to integrate the client's expertise in all phases of the development process. Helbling developed an alignment unit for Asitrade that is used on high-performance laminating lines to precisely align and synchronize pre-printed sheets with the continuously running corrugated board web. With its revolutionary mechatronic process, the Power Aligner pushes into entirely new performance dimensions. Helbling worked out initial ideas with Asitrade, designed and constructed the unit, and drew up all the manufacturing documents. When the first systems were implemented at clients' sites, Helbling took over project management for Asitrade.
Line speed: max. 240 m/min
Throughput: up to 12,500 sheets per hour
Sheet size: 550 mm × 550 mm…2,050 mm ×1,630 mm, 90 g/m²…340 g/m²
Alignment precision: better than ±0.2 mm
Our Contribution
Comprehensive pilot study with out-of-box approaches
Concept for plant mechanics and control with view to commercial and technical feasibility
Detailed development work on mechanics, where design and production documents strictly followed Asitrade's design guidelines
Assistance with implementation of first plants
Outcome
The unit taps into new possibilities in the area of laminating, not only in terms of speed but the thickness of the sheets processed, as well. The new system simultaneously reduces downtime and waste.
The Power Aligner was successfully presented to a broad audience as a part of the Masterflute at the Competence '10 in-house trade fair and the first units have already been sold.
Several different companies have reported about how they have benefitted from the Masterflute, including TimBar and the Roba Group. Even Spain's most important industry platform,
Interempresas.net
, commented on the advantages offered by the Masterflute.