business services
Successful support of the Belgian HR specialist Copus Group in the acquisition of Primus Personal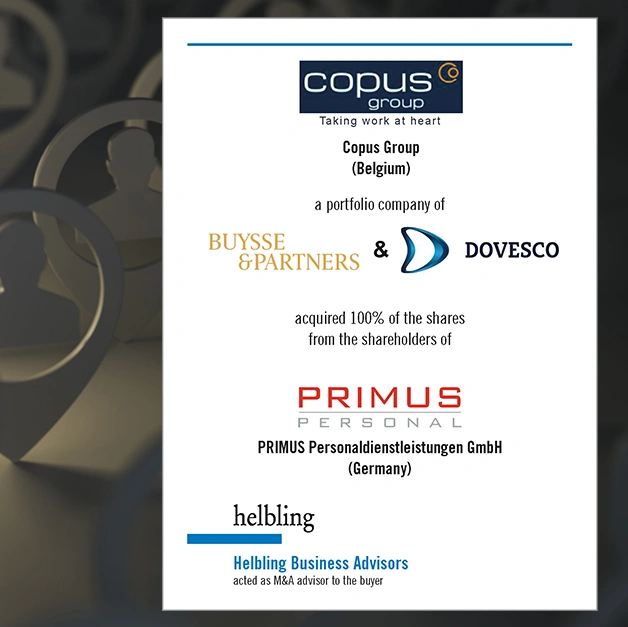 We supported Copus Group throughout the entire acquisition process as
M&A buyside advisor
in this crossboarder transaction.
It was important for us to find a target company that, in addition to its regional focus, matched our client Copus Group in terms of growth strategy and management philosophy.
Services

Development of a broad buy and build strategy

Market research and identification of acquisition targets in line with Copus Group strategy

Initial contacting and steering of the entire dialogue with the target companies

Coordination and management of the entire due diligence process

Accompaniment of the contract negotiations
Result / Success
The acquisition of Primus Personal expands the Copus Group's presence in Germany and builds on its previous acquisition of the German temporary staffing company SPP Direkt. While the latter operates mainly in the southwestern regions, Primus Personal focuses on the northwest of the country.
In addition, Primus Personal has extensive experience in recruiting specialized profiles in Eastern Europe, for example for the healthcare sector.
The new additions bring the number of Copus Group employees to over 350 and 110 offices. In 2022, the Group aimed to achieve sales of 250 million euros through organic growth and strategic acquisitions.