Insight
Data connectivity as an important key to successful innovation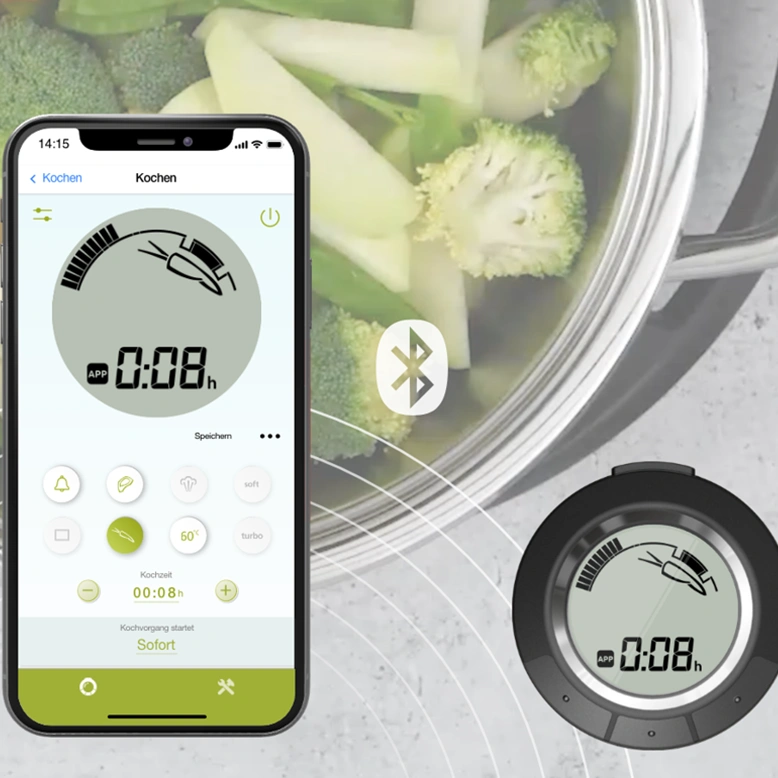 April 2022

The interaction of several systems through target-oriented processing and data exchange opens up new possibilities that a single, isolated system cannot offer. Data connectivity is playing an increasingly important role in innovation. It can provide added value for mobile applications in particular. The design and implementation of suitable connectivity solutions requires experience, which Helbling can provide from many different engineering projects.
The familiar sound of a smartphone alarm clock heralds the start of the day and the first notifications arrive. What's the weather like today? You quickly prepare a meal; it should be ready in time for the end of work. At the station, you settle the bill for your coffee with your smartphone and, by showing the loyalty points app, choose another product for free. Traveling with public transport, you stream daily news with connected Bluetooth headphones and browse through social media and news portals.
Even more complex applications are no longer dreams of the future. For example, if the working day is longer than expected, an app can be used to quickly change cooking settings. Helbling has recently developed the mobile app "AMC Cook & Go" on behalf of AMC, a company specializing in premium cookware. With the guidance of a connectivity solution, it enables the user to operate the AMC cooking system both locally and remotely (Figure 1). Several other Helbling reference projects deal with the networking of various intelligent devices, such as coffee machines (Figure 2).
All these applications must be as convenient as possible, even though they involve extensive data connectivity solutions. This is a challenge that Helbling has taken on in recent years for clients from very different sectors, because the data connectivity trend affects nearly all industries and the areas of application are almost limitless. Even medical technology is now unthinkable without this, considering regulatory requirements and compliance with the high demands on privacy and security. Helbling combines experience from various industries within its teams, which provides a decisive advantage for data connectivity projects.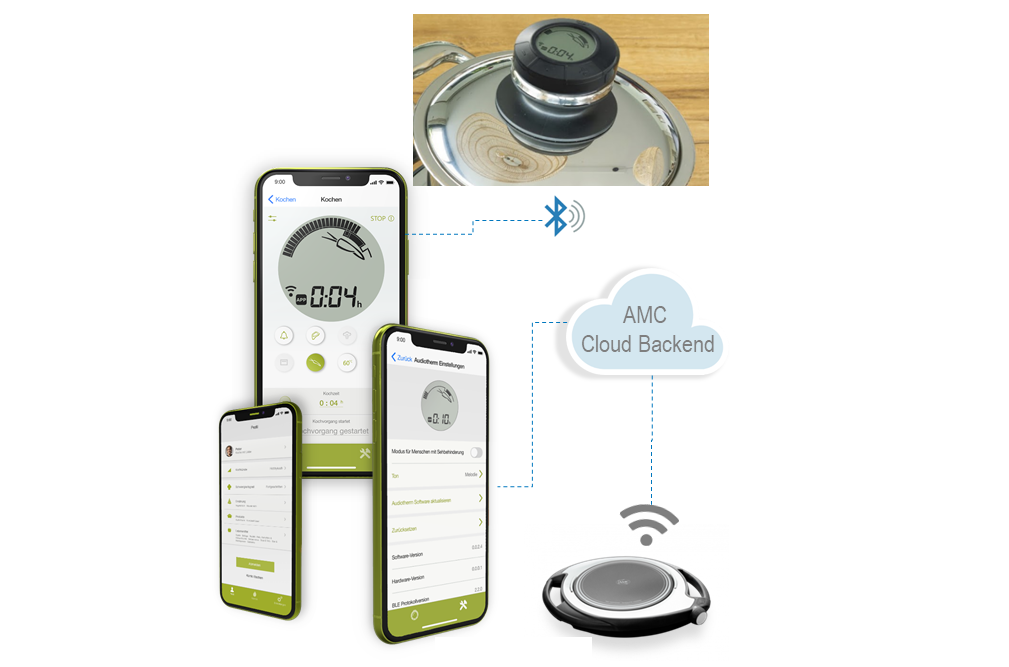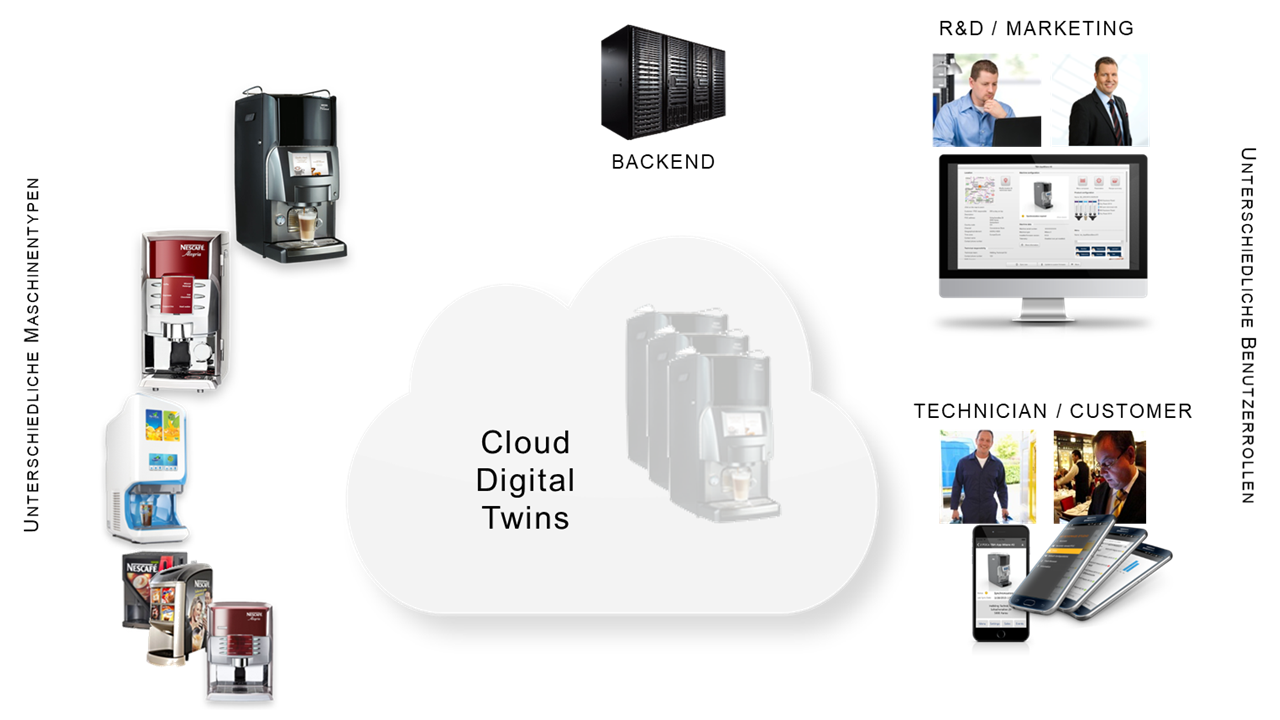 The smartphone as a central communication interface
The smartphone is an important hub for all these applications. It has the ability to intelligently process and exchange data with other devices. Connecting a smartphone to a WLAN or directly to the internet enables communication with numerous data sources and communication devices, even if they are far away from each other. Connecting and controlling other accessories via Bluetooth low energy (BLE) or near-field communication (NFC) also makes it possible to connect wireless devices over short distances. The limited range of these connections is particularly advantageous when sensitive data such as payment information is transmitted via NFC or audio data via BLE.Referenzprojekte.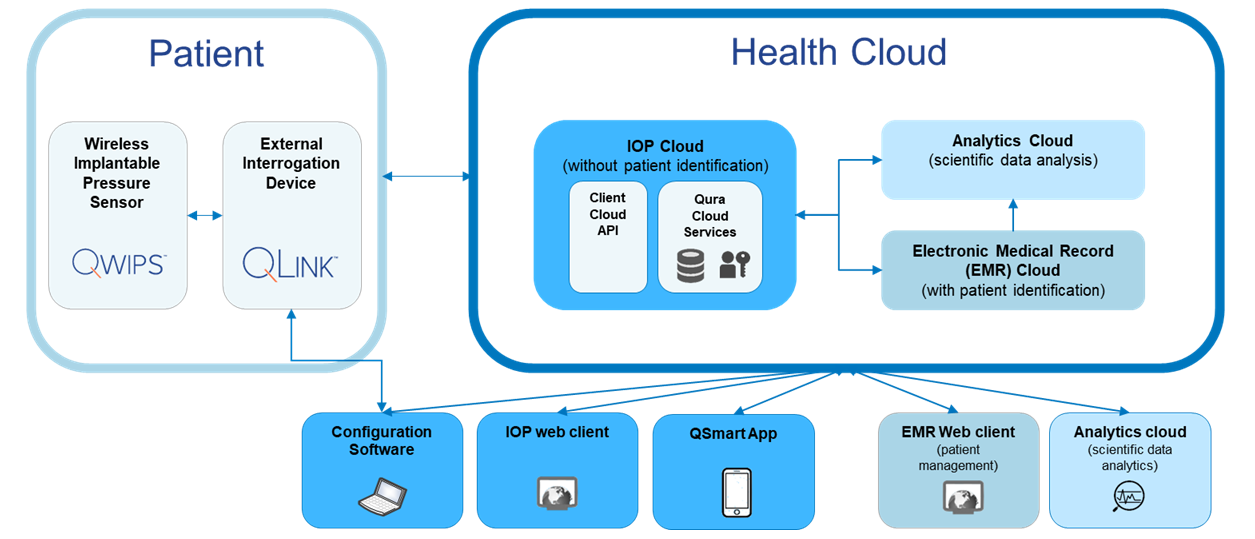 In addition to communication interfaces, a smartphone also contains a wealth of other components that enable the collection, processing, and output of data in an intelligent way (see Figure 4).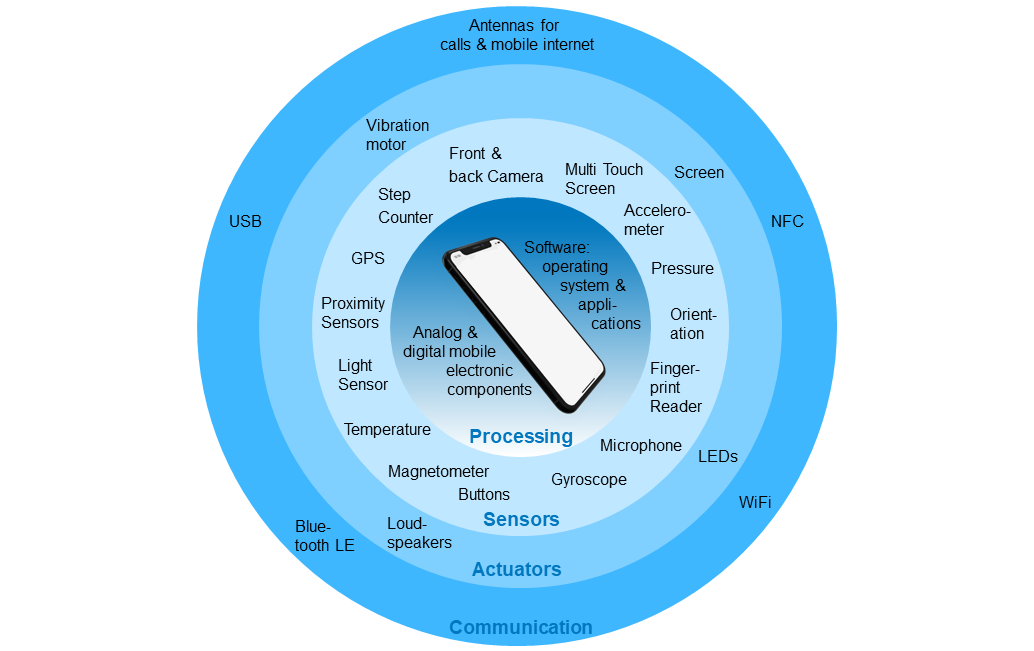 The input-processing-output (IPO) model described for the smartphone can be found in countless devices in various forms: in smart home systems for lighting control, BLE headphones, QR code readers, cash register systems, RFID readers at return cup stations, and various cloud services.
The data connectivity of the individual systems provides the added value that the systems can be used not only individually, but rather as part of a larger ecosystem.
When it comes to designing new solutions, single-board computers can be used representatively as a complement to smartphones.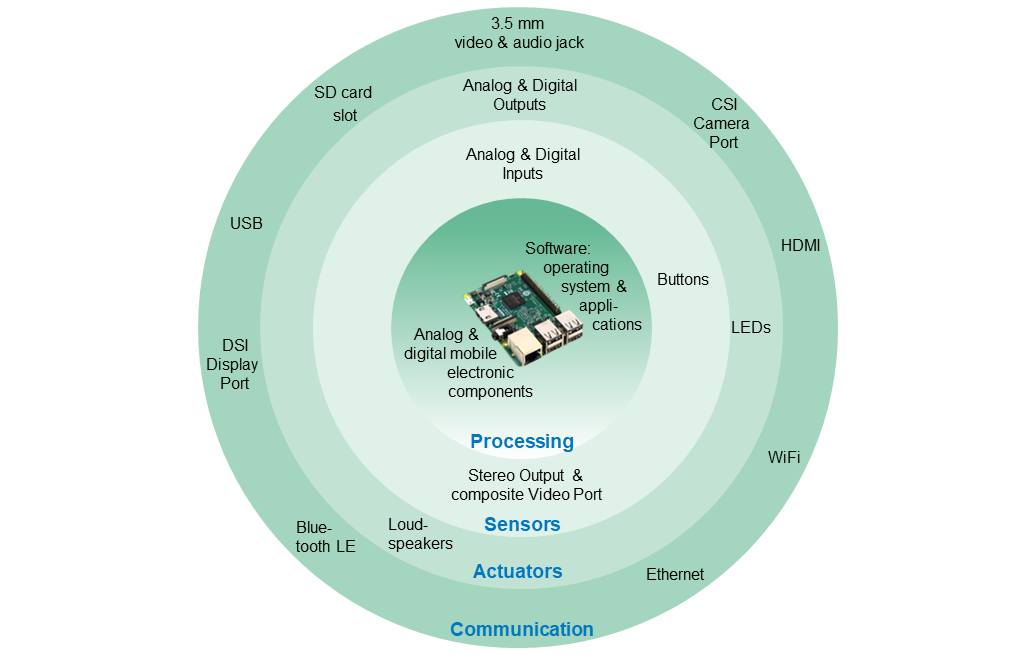 As an inexpensive single-board computer, the Raspberry Pi is ideal for the rapid prototyping of smart devices with input, processing, and output of data due to the range of functions it contains and the support it receives from a large community. Unlike a smartphone, the Raspberry Pi focuses much more on the digital communication interfaces than on human interaction (see Figure 5).
Subsystems become smart systems through data connectivity
Data connectivity allows data to be exchanged between individual systems in order for it to be used across systems in the shared network.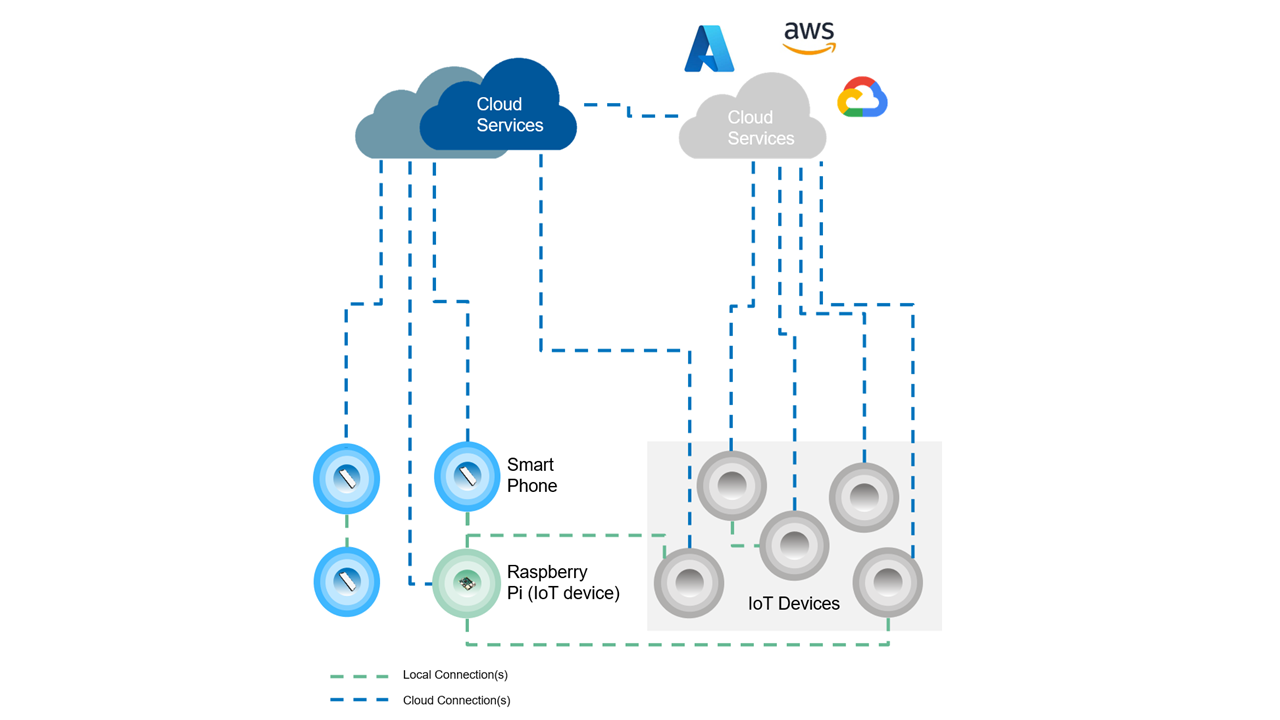 Figure 6 illustrates the local and cloud connections of systems within a network. Of particular importance is the use of internet of things (IoT) devices, which are connected to each other via the internet with cloud services. This allows data to be exchanged and processed even if the individual systems are far away from each other. Amazon Web Services (AWS), Microsoft Azure, and Google Cloud Platform (GCP) are established cloud platforms already used by Helbling for business solutions.
The targeted connection of subsystems creates smart systems that can make everyday life easier with the help of data-based processes, insights, or decisions.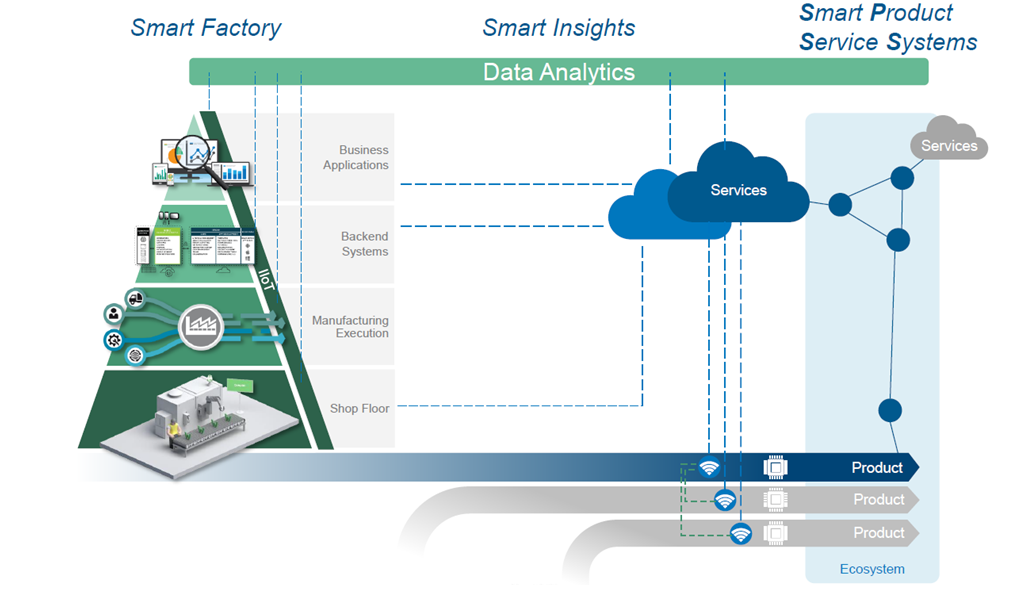 Success factors for the implementation of data connectivity projects
Important: Requirements and the user benefit promise come before the technology. Only when these have been thoroughly verified will Helbling experts develop and test technical solution concepts. Use cases have shown that particular attention should be paid to the following aspects with regard to usability engineering and the development of mobile or cloud-based applications:
User-oriented system architecture
The system and its interfaces should be optimized based on the intended use cases and the intended customer value. The high usability at which the customer is aiming plays a central role in this. Workshops are helpful at an early stage of the project to define its scope and the solution concept according to the client's needs. It is important that the intended target groups and their use cases are systematically recorded and described. Different application perspectives and possible misuse cases must be considered:
Data structure, data flow, and the communication concept
When storing, processing, and exchanging data, the structure of the data should be defined in such a way that the desired data can be handled as efficiently as possible. Based on the various application scenarios, there is a need to determine what data flows between the individual systems, when, and which error cases can occur. Helbling works with questionnaires and checklists. Here are some examples of relevant questions:
What data is generated where and how is it processed and transmitted?
What data volumes are to be expected?
What happens if a communication interface is (temporarily) unavailable?
What level of system stability (performance and failure) must be guaranteed?
What communication technologies and protocols are suitable for the required purposes?
Can standard protocols be used or is customized development required?
Data security and privacy
Threat modeling is used to systematically identify the critical data that is available and what the undesired consequences of an unwanted access or attack on this data would be. Based on the possibilities of attack and security risks, a defense concept is developed. In addition to data security, privacy must also be ensured in accordance with applicable guidelines: security & privacy by design.
Supported devices and software versions
The range of devices to be supported has a significant impact on software complexity and the expected effort for its elaboration. This also involves different software versions and the implementation of software updates in the field as well as ensuring for backward compatibility. Restriction of the devices to be supported is particularly important for devices that require approval.
Mobile software technology and cloud providers
When choosing the software technology and the cloud provider, it must be verified that the requirements can be met. It is important to consider different operating systems and possible technical solutions (native versus cross-platform). When selecting a cloud provider, various aspects such as the services offered or the worldwide locations must be considered.